Blood, Lymph(Lymphedema)
The world's best doctor using specially chosen medical equipment made in Japan -Lymphedema Clinic Tokyo 
The world's best doctor using specially chosen medical equipment made in Japan -Lymphedema Clinic Tokyo 
23.10.16
Greatly improved quality of life after cancer surgery
This article was supervised by Dr. Makoto Mihara, Doctor of Medicine and Director of Lymphedema Clinic Tokyo
Graduated from Fukuoka University School of Medicine, Dr. Mihara served and practiced at the Department of Plastic and Reconstructive Surgery, University of Tokyo. He studied under Dr. Isao Mitsushima for about 10 years, performing super-microsurgery for vascular anastomosis of 1 mm or less. He has performed surgeries not only in Tokyo, but also at hospitals in Hokkaido, Fukuoka, and Italy and received numerous awards for his dissertations and his techniques at conferences in China and Europe.
State-of-the-art treatment of lymphedema
Lymphedema Clinic Tokyo is located in Shinjuku, Tokyo, and specializes in state-of-the-art treatment of lymphedema.
"Swelling" is commonly heard as one of the most common physical complaints, along with stiff shoulders and back pain. Lymphedema is a condition that often occurs after cancer surgery and differs significantly from indeterminate swelling in the degree of symptoms and risk.
In addition to physical swelling, cellulitis (inflammation of the skin and underlying fatty tissue) can cause fever, chills, severe pain, and other symptoms that interfere with daily life. However, after cancer surgery, patients may endure or overlook it because "the cancer has disappeared. Lymphedema Clinic Tokyo has extensive experience in treating lymphedema due to diseases other than cancer (e.g., primary lymphedema), and in all cases, appropriate treatment can greatly improve the quality of daily life and reduce the risk of subsequent inflammation.
LVA (Lymphaticovenous anastomosis) effective for postoperative lymphedema after cancer surgery, especially cellulitis
Blood leaves the heart and delivers oxygen and nutrients throughout the body, but some of it does not return immediately to the veins but enters the capillary lymph vessels, where it collects waste products as lymph fluid and monitors bacterial/viral invasion, before finally returning to the veins.
Procedures such as removing lymphatic vessels during cancer surgery, irradiating the lymphatics, or using anticancer drugs to prevent the lymphatic system from functioning can block the route by which cancer cells flow throughout the body, thereby preventing the recurrence of cancer. But, the sudden loss of previously functioning lymphatic vessels causes temporary stoppage of lymphatic fluid, leading to edema in some people.
LVA (Lymphaticovenous anastomosis) is a lymphatic bypass surgery, in which anastomosis is performed to connect the veins with the lymphatic vessels that can be utilized to restore lymph flow, once the lymphatic vessels are found where they are broken.
According to the treatment results performed at Lymphedema Clinic Tokyo, LVA has improved pain in more than 90% of cases. As for patients who had suffered from cellulitis before surgery, 92% of them improved after surgery. For the remaining 8% of patients, LVA alone did not improve cellulitis, but the combination of antibiotic therapy reduced the occurrence of cellulitis.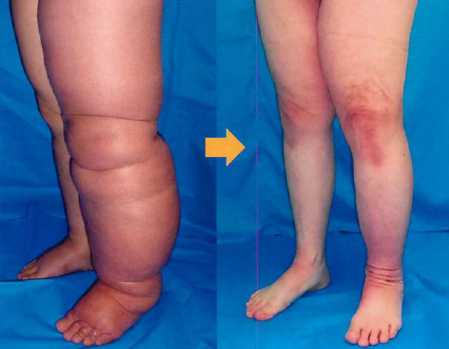 World-class treatment results and hospitality
The director, Dr. Makoto Mihara, performs over 400 LVA cases (limbs) per year and has received numerous awards at international conferences. In order to prevent the sensation in the hands and fingers during surgery from becoming dull, he has been improving his surgical skills daily by conducting simulations (morning and night training) using a microscope for more than 10,000 hours over a period of 10 years.
In addition to LVA, Lymphedema Clinic Tokyo has surgical experience in many aspects of lymphatic surgical treatment, including lymphatic vascular transplantation, lymphatic tissue transfer, and pediatric treatment. Surgery is performed using a surgical microscope made in Japan and the world's smallest surgical needle, which can be viewed by family members and the patient on a large monitor. In the past 5 years, patients operated on by Dr. Mihara have had no complications such as neuropathy/neuropathy/infection, and minor complications such as wound dehiscence have been kept to less than 0.01%.
One of the clinic's unique features is that we do not start with surgery, but rather conduct an examination first, and then, based on the patient's current situation and requests, propose treatment methods that are more appropriate for the patient and based on evidence, such as conservative therapy, surgery, and rehabilitation.
Medical equipment used in the clinic
Received the Prime Minister's Award! Surgical microscope made in Japan: Jointly developed by Dr. Mihara and Mitaka Koki, the world's highest magnification (100x).
Canon Aplio i700 ultrasound echo: Preoperative identification of lymphatic vessels and veins as small as 0.2 mm becomes possible, which was previously considered impossible
World's smallest surgical needle: Using 50㎛ in diameter, the world's smallest surgical needle handmade in Chiba Prefecture, Japan
ICG Lymphangiography System: Performing preoperative examination using Hamamatsu Photonics PDE-Neo. With the introduction of this device, lymphatic vessels can be observed in real time.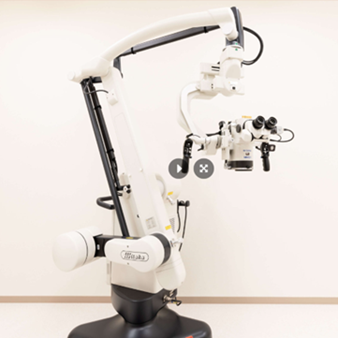 Please also see the video about the treatment at Lymphedema Clinic Tokyo .
Please contact EAJ if foreign nationals wish to seek medical attention in Japan.