Urinary tract(Prostate hypertrophy)
Urinary tract(Prostate hypertrophy)
Transurethral prostatic suspension (Urolift) for Benign prostatic hyperplasia 
Transurethral prostatic suspension (Urolift) for Benign prostatic hyperplasia 
23.10.18
For those with weak urinary output and residual urine. Minimally invasive treatment with minimal sexual dysfunction
This article was supervised by Dr. Tsuyoshi Anami / Manager, Urology Department, Yotsuya Medical Cube
Received "Award of the year" at the Annual Meeting of the Japanese Urological Association in 2021
What is benign prostatic hyperplasia?
Benign prostatic hyperplasia is a disease in which the prostate gland at the bladder outlet becomes enlarged, putting pressure on the urethra that passes through the prostate gland, causing inability to urinate, decrease in urinary flow, and urinary storage disorder and frequent urination. It is a common disease that rapidly increases in men after the age of 50 and affects one in two men by the age of 60. If you have recently been waking up in the middle of the night to use the restroom more often or feel that the stream of your urine is not as fast as it should be, you may have benign prostatic hyperplasia. There are various treatment options available, and the disease can be cured with proper treatment.
If it becomes moderate (e.g., the patient begins to use all his strength to urinate), treatment should be initiated as soon as possible.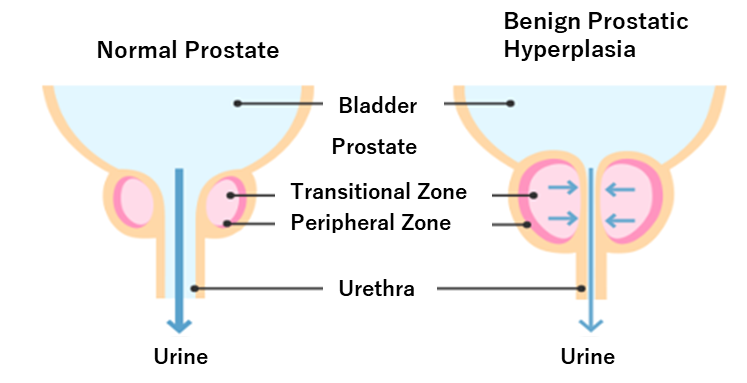 Treatment of benign prostatic hyperplasia
At clinics referred by EAJ, drug therapy is the first choice, and if there is no improvement, surgical treatment is considered.
In recent years, the minimally invasive transurethral prostatic suspension without sexual dysfunction (Urolift) has been actively introduced.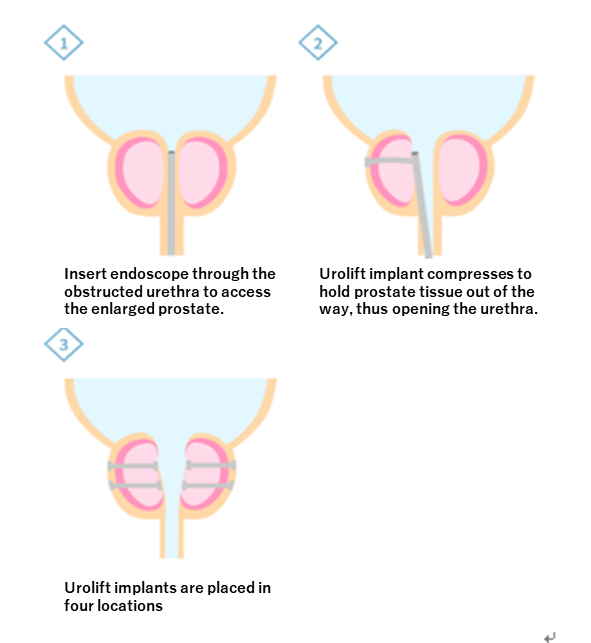 Treatment Process of Transurethral Prostate Suspension (Urolift)
An endoscope is inserted through the urethra and Urolift implants are placed in four to six locations. Those implants compress prostate that blocks the flow of urine, thus opening the urethra.
The patient will be admitted to the hospital for one night and two days under general anesthesia.
The surgery takes about 15 minutes. Once urination is confirmed the next day, the patient is discharged in the afternoon. There are no restrictions after discharge. After a follow-up outpatient visit in a few days, the patient can return home.
The merit of transurethral prostatic suspension (Urolift)
In other benign prostatic hyperplasia surgeries that use electrocautery or lasers, the surgery damages the prostate tissue and structures necessary to produce semen, so that semen does not flow out during ejaculation and regurgitates into the bladder (retrograde ejaculation). It is recommended for male wishing to preserve sexual functioning since there is no risk of damage to the prostate gland, and it does not cause retrograde ejaculation, preserving ejaculatory function and erectile function as the Urolift only uses devices to physically open the prostate gland.
Checking for suspicious malignant tumors as well
At clinics referred by EAJ, when confirming as to whether the surgery is applicable or not at the initial consultation, a patient will also undergo a prostate MRI and other examinations to check for any findings that may be suspicious of prostate cancer.
Introducing one of the leading clinics in Japan with a proven track record of surgical procedures
EAJ will introduce a patient to clinics with a proven surgical track record that placed No.1 in Japan in the field of bedded clinics/clinics and No.1 in Japan per physician in surgery*. As a patient can consult with an experienced physician who has given many Urolift lectures at urological conferences, including advice on lifestyle and other treatment options, the patient can receive treatment with peace of mind. When the time comes to have the surgery, most people say, "I should have done it sooner!  If you are worried alone, please contact us first.
*Based on manufacturer's research (From April 2022 to June 2023)
Please contact EAJ if a foreign patient wishes to receive treatment in Japan.