Treatment(Proton Therapy)
Treatment(Proton Therapy)
Proton therapy to target cancer lesion Cancers of the pancreas, liver, gallbladder, and lungs that are difficult to operate can be treated in combination with proton therapy Southern Tohoku Proton Therapy Center
Proton therapy to target cancer lesion Cancers of the pancreas, liver, gallbladder, and lungs that are difficult to operate can be treated in combination with proton therapy Southern Tohoku Proton Therapy Center
23.11.21
Director, Southern Tohoku Proton Therapy Center affiliated to Southern TOHOKU Research Institute for Neuroscience. Southern TOHOKU General Hospital Group
This auricle was supervised by Dr. Masao Murakami
What is proton therapy?
This is a treatment that kills cancer cells by accelerating protons, which are hydrogen nuclei, to near the speed of light and bombarding the cancer with them. After the proton beam travels through the body to a certain extent, it suddenly stops, and at that point, it suddenly emits high energy into the surrounding area (spread out Bragg peak). This makes it possible to precisely target cancer while minimizing the impact on surrounding organs and normal cells. Irradiation is performed about 5 times a week for several weeks, but each irradiation takes only about 15 minutes, so a patient can receive treatment as an outpatient. An international patient will be able to stay in Japan for a while and will be receiving treatment while recuperating slowly.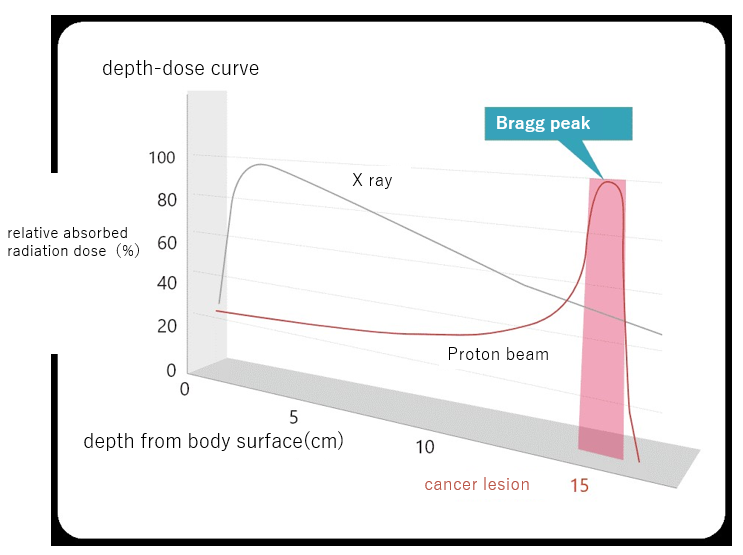 Features of Southern Tohoku Proton Therapy Center
Inserting a spacer to prevent damage to other organs
Working together with Tohoku General Hospital which is a general hospital, Southern Tohoku Proton Therapy Center has established know-how for treatment using a combination of surgery, chemotherapy, and proton beams. For this reason, the Tohoku Cancer Proton Beam Center may be able to treat intractable cancers that cannot be cured with proton beams alone. In particular, cancers of the pancreas, liver, gallbladder, and lungs that cannot be treated with surgery are difficult to treat with other forms of radiation. Even with proton beams, it is impossible to completely prevent radiation from being applied to surrounding organs. Therefore, such cancers are often considered impossible to treat even at other proton beam therapy facilities in Japan. By placing spacers, Tohoku Cancer Proton Beam Therapy Center works with surgeons to actively treat patients who have been turned down at other facilities.
Effective treatment for pancreatic cancer located deep within the body
For example, the pancreas is located deep within the abdominal cavity, and there are other important organs nearby such as the stomach, small intestine, large intestine, liver, and kidneys, and if these tissues are exposed to radiation, the organ may become perforated. increased risk of developing complications. By placing a spacer to maintain a certain distance between the pancreas and surrounding tissues, irradiation energy is concentrated on cancer cells in the pancreas, minimizing exposure to surrounding normal tissues. In this way, for irradiation of areas surrounded by other important organs, proton beam therapy, which uses protons where its mass is just 1/12 of carbon, has the advantage because it is easy to control the effects on other organs, compared to heavy ion beams (carbon rays), which deliver large energy and can cause damage other organs when irradiated.
Proton beam therapy for other cancers
In addition to pancreatic cancer, liver cancer, gallbladder cancer, and lung cancer, Southern Tohoku Proton Therapy Center also performs proton beam therapy for head and neck cancer, prostate cancer, esophageal cancer, and bone and soft tissue tumors. The surgeon will implant a gold marker in the prostate to ensure accurate radiation, so that the gold marker will be detected by a position matching system. In some cases, the part that can be surgically removed is first excised and then irradiated to remove the remaining tumor that could not be excised by surgery. In combination with chemotherapy, especially when combined with intra-arterial chemotherapy, in which anti-cancer drugs are directly injected through a catheter into the artery leading to the tumor, it is possible to provide effective treatment while reducing the dose of proton beam irradiation because the high-concentration of anti-cancer drugs works to suppress cancer cells. In addition, at Southern Tohoku Cancer Proton Beam Center, even young children who would otherwise move without sedation can receive treatment using sedation in collaboration with the pediatric department of Southern Tohoku General Hospital.
How can international patients undergo proton beam therapy?
If a patient would like to receive treatment at the Tohoku Cancer Proton Beam Therapy Center (hereinafter referred to as the "Proton Beam Center"), please contact Emergency Assistance Japan (EAJ), which provides support services for international patients. EAJ has a rich track record in arranging proton beam therapy for international patients, and support patients who come to Japan for treatment with detailed services based on our experience.
<Procedure of treatment>
Before coming to Japan:
・A patient is requested to send medical information, images, etc. to EAJ.
・The proton beam center will review the medical information to determine whether treatment is appropriate.
・If treatment is possible, the patient will transfer the medical expenses to EAJ.
・EAJ provides support for the patient coming to Japan, such as preparing the documents needed to obtain a medical stay visa, arranging accommodation and transportation, etc.
After coming to Japan:
・EAJ will escort the patient from the airport to the proton center and assist check-in at the accommodation adjacent to the treatment facility.
・At the proton beam center, the patient will receive a medical examination and tests such as CT scan as necessary.
※Interpreters will be provided as necessary for examinations, treatments, and treatments at the Proton Beam Center.
・The proton center will make a fixture that fits the patient's body.
・Depending on the area to be treated, surgery may be performed to place a spacer.
Irradiation period:
・Basically, proton beam irradiation is performed every weekday.
・After X-rays are irradiated, the position is determined by matching the images used for treatment planning.
・Irradiation takes about 2 to 5 minutes. One irradiation is completed in 15 to 30 minutes, including positioning.
・If there are symptoms that a patient concerns, a treating doctor will see the patient.
・Irradiation will be carried out for about 2 to 8 weeks.
After returning to home country:
・In addition to that a patient is requested to send the images to confirm the treatment effect, the patient can also receive a re-examination at the proton beam center if necessary.
 ※EAJ will support a patient in arranging communication between a local doctor and the proton beam center after returning to home country.
"Patient Support Services during stay"
・EAJ will be arrange an accommodation near the proton beam center. It has a restaurant, hot springs, laundry room, and in-room mini kitchen. Up to two people can stay in one room.
・EAJ will provide support such as shopping necessary for daily life during a patient's stay including information about the neighborhood.
・In case of emergency, EAJ will provide a 24-hour support hotline available in English and Chinese. If a patient has any problems, he/she can contact EAJ at any time.